Artificial Intelligence has been making significant strides in the medical field in recent years. From diagnosing diseases to drug discovery and personalized medicine, AI has opened new avenues for revolutionizing healthcare. One area where AI is already making a substantial impact is spine surgery. AI medical technology is transforming how we plan, execute, and evaluate spine surgery procedures. I think it is important to educate my patients on how AI is taking spine surgery to the next level and how it is changing the way I can perform these procedures.
What is AI Medical Technology?
AI medical technology is the application of AI in healthcare to improve patient outcomes and enhance overall healthcare delivery. This technology is being used in various areas of healthcare, including radiology, pathology, and cardiology. In spine surgery, AI is being used to assist surgeons in performing complex procedures more accurately and efficiently.
Benefits of AI Medical Technology in Spine Surgery
Improved Precision and Accuracy 
AI can help surgeons perform spine surgery with greater precision and accuracy, reducing the risk of complications and improving patient outcomes.
Real-time Monitoring and Feedback 
AI can monitor vital signs, such as heart rate and blood pressure, and alert me if there are any abnormalities. AI can also monitor your position during surgery and alert me if there is any deviation. This allows me to make adjustments, reducing the risk of complications and improving patient outcomes.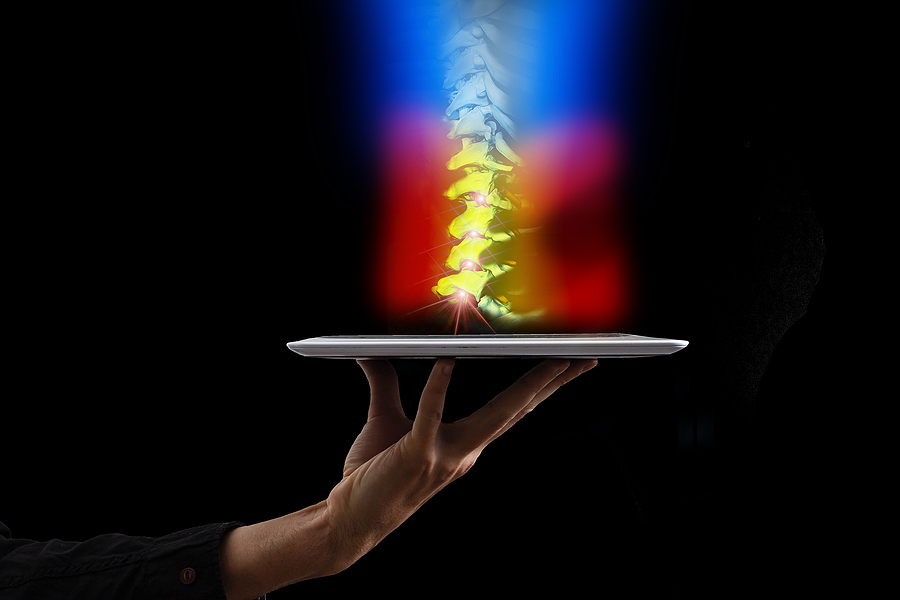 Enhanced Planning and Visualization 
AI can assist in preoperative planning by analyzing imaging data and providing 3D models of the spine. These models can help me visualize your anatomy, identify potential complications, and plan a surgical approach. This allows me to perform the surgery with greater accuracy and reduce the risk of complications.
Reduced Radiation Exposure 
Surgeons usually rely on pre-operative imaging to guide our actions, and these static images may not accurately represent what is happening during the surgery. As a result, we may need to use continuous X-ray imaging during the procedure. This repeated exposure to radiation can be a concern for both patients and surgical teams.
With AI medical technology, we can access imaging data that is continuously updated throughout the surgery. By using advanced algorithms and machine learning, AI systems can analyze and update imaging data in real-time, such as visualizing the current state of the surgical site, tracking the movement of instruments or implants, and ensuring precise placement, all while minimizing radiation exposure.
Improved Patient Outcomes 
After surgery, AI medical technology can assist in evaluating the success of the procedure by analyzing data, such as imaging, lab results, and vital signs. It will then identify patterns and trends in the data, and provide feedback that allows me to customize your recovery treatment plan and improve your outcome.
Not a Replacement for Expert Care
While AI medical technology can assist surgeons in performing spine surgery, it is important to recognize that human expertise and judgment are still necessary for successful outcomes. AI should be viewed as a tool to enhance the skills and abilities of surgeons, rather than a replacement for human expertise.

The Future of Spine Care
With AI, I can plan, execute, and evaluate spine surgery procedures with greater precision and accuracy, reducing the risk of complications and improving patient outcomes. At The Institute for Comprehensive Spine Care, my team and I conduct many of our surgeries at our facility, ensuring that our patients receive expert care in a comfortable and convenient setting.
With over 20 years of experience in treating spinal conditions, I am constantly continuing my education in technology in the medical field. I strongly believe in the benefits of preventative care, minimally invasive surgeries, and prioritizing clear communication and personalized attention for each of my patients. My goal is to make sure you understand all of the options available to you, be they new advancements such as AI medical technology, or more conservative methods of treatment.
If you're experiencing spinal issues that are causing a decrease in your quality of life, contact us today to schedule a consultation. My team and I believe that we can provide you with the best possible care, and help you live life to the fullest.